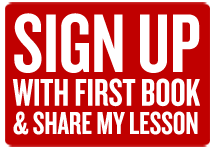 AFT's First Book Program 
All teachers can sign up for the AFT First Book program. 
If you work in a school, community program, library, or city or county program in an under-resourced community, sign up with First Book to get free and low-cost new books for children in your area.
You can also register with Share My Lesson for access to lesson plans and other free educational resources that you can use in your classroom or program.
Click here to sign up for First Book and Share My Lesson*. 
Click here to sign up with First Book without also registering for Share My Lesson.
When signing up, be sure to indicate your affiliation with AFT to stay informed about book grants and special opportunities. If you have questions or need assistance contact First Book at 866-READ-NOW or help@firstbook.org This e-mail address is being protected from spambots. You need JavaScript enabled to view it. .