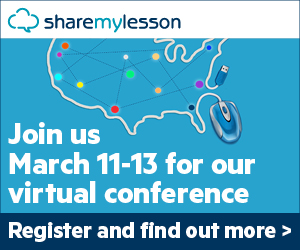 Professional development hours.

Great new ideas for your classroom.

Lesson plans that actually work with kids.

Evening entertainment almost as good as Scandal.
If you're looking for any of these things, then join the AFT's Share My Lesson in their first virtual conference. Teaching & Learning: Ideas & Innovations 2014 is an online festival of professional learning featuring over two dozen free workshops by Share My Lesson's content partners, educational leaders, and expert teachers.
Held in the afternoons and evenings of March 11-13, 2014, you'll simply log into your computer to attend these free events. There is no travel, lost class time, or any cost.
The keynote speaker is AFT president, Randi Weingarten, who kicks off the conference at 5:00 PM CST on Tuesday, March 11th with her message on Reclaiming the Promise of Public Education.
To register for sessions, see the complete online agenda here. Register for each workshop separately to ensure you get credit for your attendance. And if you haven't yet signed up for Share My Lesson, do so today. Participation in the conference is exclusive to registered users.
We reclaim the promise when we support teachers and help them to be as effective as possible in the classroom. Register for Teaching & Learning: Ideas & Innovations today.
Ideas and Innovations
Ideas and Innovations is a virtual festival of professional learning on the evenings of March 11-13 2014. Presented by the content leaders and partners of Share My Lesson, you will enjoy engaging webinars on everything from arts education and civics to the Common Core. With two-dozen webinars to choose from, there's something for every educator and parent.
Registration
Participation in Ideas and Innovations is limited to subscribers of Share My Lesson. It's free to sign up for our site and for the workshops, so if you haven't done so, sign up for Share My Lesson now. Once you've joined Share My Lesson, click on the individual workshop registration link to sign up. You will need to register for each workshop individually in order for us to keep attendance records for those seeking professional learning credits.
Keynote Address
Reclaiming the Promise of Public Education 
Randi Weingarten, President, American Federation of Teachers
Our public schools represent our nation's commitment to helping all children dream their dreams and achieve them. A high-quality public education for all children is an economic necessity, an anchor of democracy, a moral imperative and a fundamental civil right, without which none of our other rights can be fully realized.
6:00 – 6:45pm EST/ 3:00 – 3:45pm PST — Register
Free Webinars
Choose from two-dozen workshop choices: