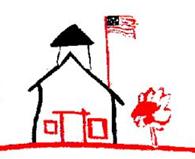 Dear Red River United member,
We hope you are enjoying your well-deserved summer break. By now you have likely received a letter, phone call, and perhaps a friendly visit to your house about our conversion process from payroll deduct to bank draft. All members will need to fill out this online form. This transition to self-management will allow us to do LOTS of things previously impossible under payroll deduct.
We believe the ACH program will provide us opportunities we could not realize with the school districts' payroll deduction program. For example, we are looking at a group disability policy. The exciting news is that we qualify for a group policy. Therefore, the cost is much more affordable and there are no pre-existing conditions. This is just one of the items we exploring.
We know you have ideas too. Below is a link for survey where you can provide input on the services you would like to see us explore. http://tinyurl.com/RRUbenefitsurvey. Be creative on what services and discounts you would like negotiate as additional member benefits. We are only able to accomplish this because we are the largest professional organization in Louisiana (over 3,000 strong).
We love to hear from you, so call us or come by for a visit. We are here all summer doing the business of our organization. We are a great group of people serving a great group of people and we count you as members of both groups. Thank you for all that you do.
Nothing will go into effect until September 1, 2015.
PS – we understand that there is a glitch on the form that requires you to select Bossier Parish regardless of the parish you work in and will not allow you to select your position. Fill the form out as it is currently posted and we will correct the discrepancies. 
In Solidarity,
Jackie